luiten: May 2008 Archives
Every second Sunday, Southern Arizona Practical Shooters (SAPS) :-) will hold their monthly match on the TRC Action ranges.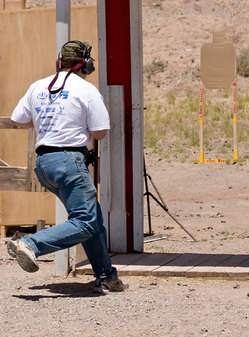 This group has United States Practical Shooting Association (
USPSA
) affiliate membership pending. Last Sunday's match was a hoot. The weather
was warm and the drive to the range long, but that didn't stop this group from turning out in force. Five stages, including one on the long bay that would raise the heart rate of a cross country runner! The match was well run, with official score keeping and a good turn out of folk helping to set up and break down.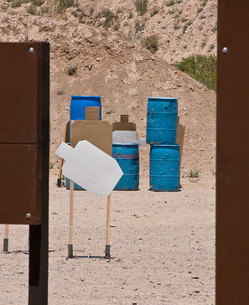 SAPS concentrates on pistol and revolver stages only, so you long gun folks best
check out some of the other matches
that are run on the TRC Action ranges as well.
One nice aspect of USPSA affiliation is that they have different age brackets and handgun classifications, including a handgun category named
Production
. That suits me fine as I shoot what I carry and that's pretty much factory stock.
Next month I'll bring my carry piece as well as my camera! Welcome aboard, SAPS.
Don't sweat during the heat of the day.
During June, July, August, and September,
TRC will be open past 5 p.m. on Fridays, Saturdays, and Sundays.
New Closing times on those days:
June -- 8:00 p.m.
July -- 8:00 p.m.
August -- 7:00 p.m.
September -- 6:30 p.m.
TRC will close at the normal 5 p.m. time Monday through Thursday
and resume 5 p.m. closing on all days in October.